In the School for New Learning Online, we adhere to a fairly rigid course-development schedule and course-readiness process. Each quarter, we have a robust set of deadlines to meet to get our schedule of 90+ courses built, revised, reviewed, and launched. And like any team of instructional designers, the SNL Online team has plenty of other projects and daily fires to put out as well. Keeping on top of our work and keeping connected with each other, especially when we need to share resources and skill sets, could be difficult at best. Isolated in our offices and buried under piles of work, sometimes our only connection was in those series of e-mails that we would inevitably send around and around to ask a simple question. You know those emails—the ones where everyone is copied and everyone hits reply all? Toward the end of last year, we were lucky enough to see our team grow to five with the addition of two new members. It became clear that we needed some new strategies for our work.
Enter Kanban.
After consulting with a local team-dynamics coach, Derek Wade of Kumido, we decided to try a team communication tool called Kanban. For a very low investment—tape, pens, and sticky notes—we could get started right away. We agreed on several things: we would have a team board put up in a common area; we would divide it into four categories of next, now, blocked, and done. We chose different colored sticky notes for each team member (I have pink, of course) and settled on daily fifteen-minute meetings at the board to update it and each other.
With that, we got started.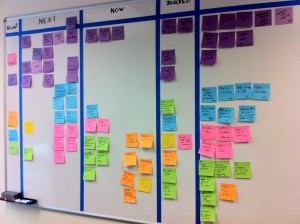 The SNL ID team's Kanban board
The five of us have been meeting around the board, at least three times a week for nearly six months now, and we have noticed several significant changes in the way we work. First, we know at a very quick glance what the workload is for any team member at any given time. This has allowed us to better utilize each other and to know when someone is bogged down and might need a hand.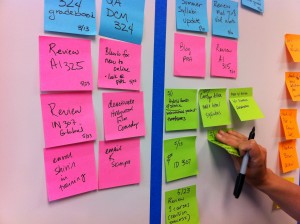 We also have developed a sort of "thermometer" to get a sense of how much course maintenance—those pesky fires we need to put out for faculty and students—we are each handling. One the left side of the board, we have a column labeled maint and we move our individually colored sticky note up or down to reflect how many fires we have going in a week. Keeping aware of this part of our jobs has helped us, and me particularly, become more aware of how we handle this area. I know seeing my pink sticky always at the top of the column has inspired me to adjust my general work day so that when these hot-button issues come in, they can be handled without interrupting the flow of my larger projects. For instance, I started handling fires in my inbox in the morning while settling in with my morning cup of tea, then moving on to other projects for the better part of the day. A similar time is set aside in the later afternoon. The number of fires doesn't change, but the way I handle them—and my stress level—improved dramatically. 


Maintenance Thermometer
Lastly, while we all have reported favorable changes in our personal organization of work and tasks to varying degrees, each team member feels more connected and has seen our communication increase dramatically. We are in touch more often and have a much better idea of what is happening in our department. At the same time, the thrice-weekly short meeting sessions have meant less overall meetings needed for all of us. Our weekly staff meetings with the rest of the SNL Online staff are more efficient since we are already up-to-date on our work and our team progress. And, I'm happy to report, there are so many fewer reply-all e-mails.
As well as it has worked for us, a Kanban that never changes is one that has stopped helping you grow, so next for us is a redesign of our board. We'll try to better categorize our work and evolve the process to reflect how we have grown since we stared using it. Watch this space for Kanban II: Electric Boogaloo.