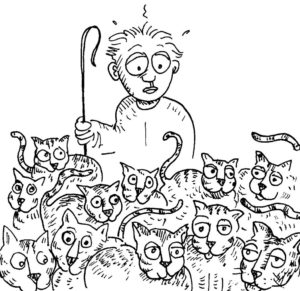 The Central Support Team at FITS offers one-on-one appointments for faculty and staff as a D2L training option. We offer face-to-face appointments and online appointments where we meet faculty and staff via Zoom, a video conferencing platform. These 30-minute or 60-minute appointments are booked online, via the FITS website.
The Central Team has been offering one-on-one appointments since I started at FITS a few years ago, and the process of managing these appointments—especially as the Central Team grows, and we bring in graduate assistants to help out with the appointments—is something we are frequently revising and hoping to streamline.
As a part of that constant revision, we adopted a new online booking system, 10to8, about a year ago. I want to briefly review that system for you, and explain our motivations for choosing it in the first place. Then I'll share some other (hopefully) helpful tidbits we have learned along the way. (Unfortunately, some were learned the hard way.)
Why 10to8?
We absolutely needed a booking system that would two-way sync with Outlook calendars. At FITS we live and die for our Outlook calendars, and some of most unfortunate "oops!" moments occurred when a staff member forgot to also block themself off on the appointment schedule.
Two-way Outlook syncing, on both Mac and Windows operating systems, whittled the options significantly. From there, we needed a booking system that would allow us to create multiple appointment types and multiple staff member profiles.
Finally, we wanted a booking system that allowed us to remove any money-related content, since faculty and staff do not pay us for these appointments. We also wanted the ability to somewhat customize the look and feel of the appointment booking page. That, plus an affordable subscription cost, landed us at 10to8.
You can read all about 10to8's features here, so I'm going to highlight a few of the biggest pros and cons for our team.
Pros:
The two-way Outlook sync works great, and is easy to set up.
You can beef up the features by setting up free integrations with Zapier (more on the specific ones we use below).
Faculty and staff almost never contact us with issues navigating the booking pages.
10to8 provides prompt and friendly customer service.
Cons:
Notifications and messages sent via 10to8 tend to get caught in spam filters, even after adding 10to8 email addresses to your address book.
10to8 assumes you might want to work all the time, so no holidays or days of the week are automatically blocked off.
There are limited options for "intake" or "booking request" questions; for example, we'd benefit from the option to have a multiple choice question that forces faculty and staff to choose a preset response.
And some tips:
As promised, I also want to provide you with a couple of tips for managing appointments as a team:
Block off holidays, staff retreats, heavy-team meeting days, etc. ahead of time for everyone on the team. In 10to8 we do this by adding in "holidays," which block off the entire day on the schedule.
Have everyone manage appointments from a centralized email account. Our team also maintains a support inbox, and we now use that to confirm appointments, and follow-up on any necessary schedule changes. This works well for a few reasons. First, if a staff member is out sick, it's easier for someone else to fill in if all information and communication about upcoming appointments is readily available. Second, this helps us to reinforce the email address as a support avenue. Third, we've disabled all notifications in 10to8 and now send our own notifications and messages via this support email address—this allows us to better ensure faculty and staff see them.
Utilize integrations in order to make the most of your scheduling system. We have two Zaps, via Zapier, setup in relation to 10to8 right now. One automatically emails a follow-up survey to faculty and staff after they've had an appointment. Another sends appointment booking notifications to Slack, our staff messaging platform. We love both!