If you use Pinterest, or have a fascination with office supplies, you've likely heard of bullet journaling. If you haven't, you can learn all about it here. There's even a bullet journaling blog, The Bulletjournalist.
If you aren't a Pinner or Office Depot regular, bullet journaling is basically a fancy way to make and keep to-do lists. There are hundreds of ideas as to how you can keep a bullet journal and use it to organize your life, but I've found the idea of habit trackers the most useful—both in my work and personal life.
I build my habit trackers on graph paper to save time. I list tasks I want to accomplish in the left column, and assign a time marker across the top. As you accomplish the task, you fill in or mark the square in the appropriate column. I've seen habit trackers for daily, monthly, and quarterly tasks.
The daily habit tracker has been a good way for me to keep tabs on how I'm doing with my day-to-day job responsibilities, which aren't always the exciting things that get folded into yearly goals. The tracker also pushes me to check in on ongoing projects, even when it feels like I'm too busy with other stuff for that to be possible. This has helped prevent situations where other to-do lists takeover, three days go by, and then I have to spend twice as long backtracking and completing old projects or tasks. And there's also an element of gamification. I will stay those extra ten minutes if it means I get to fill in one more square.
An unintended benefit: the daily tracker is providing me a visual representation of how I spend my weeks. My department is always encouraged to document are work so we can share it with others, keep tabs on the division of responsibilities, and use the information in reference to new staff or role shifts. I might never submit a page of my bullet journal officially, but it will help me to explain how I spent my time during an academic quarter. I imagine this will be even more useful once I've logged a few months, and even an entire year.
Plus, I have an excuse to use these awesome pens.
These are some of the daily work tasks I'm tracking:
Clean Inbox – left work with a clean inbox (my interpretation being no unanswered or unaddressed emails)
Documentation – spent part of the day working on documentation
FAQ Harvest – harvested any new questions or information that need to be added to our FITS Tech Updates Blog
Training Appointment – had a one-on-one appointment with a faculty or staff member (I fill in the box with a special design if there was more than one appointment)
Closed All Tickets – left work without any open tickets, or support requests submitted through FITS support channels while ticketing
Returned All Calls – returned all voicemails and missed calls (all boxes start with a circle: unfilled circle means I didn't miss any calls, filled in means I returned all calls, red means I failed)
A few of the things I track help to provide context to the work I'm doing:
Ticketing – acted as the main support person via FITS support channels
Telecommuting – worked remotely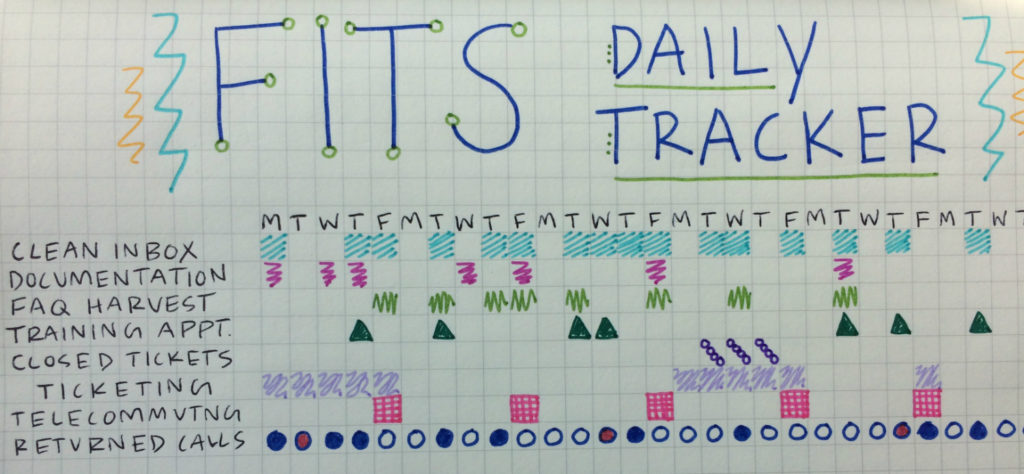 So you can get a better idea of how you can use habit trackers, and perhaps find inspiration, these are some of the personal tasks I'm tracking, which I believe are more self-explanatory:
Drank 60 Ounces of Water
Walked 10,000 Steps
Clean Sink
Took Vitamins
Flossed

Everyone has heard the suggestion that it takes twenty-one days to build a habit, which perhaps is what I'm striving for with some of my personal habit trackers. In the case of my work trackers, however, I've found new benefits of logging what I'm doing in the day-to-day, and plan to keep tracking, doodling, and bulleting my way into the new academic quarter.