I've been working on a side project recently to help young people improve their financial literacy and job skills, and I needed to create a quiz that would be accessible to anyone with the link. I'd heard from a colleague that Google recently rolled out a feature allowing Google forms to be turned into quizzes, so I decided to give it a try. The process was easier than I expected and, in less than 30 minutes, my "ultimate credit score quiz" was live for the world to see.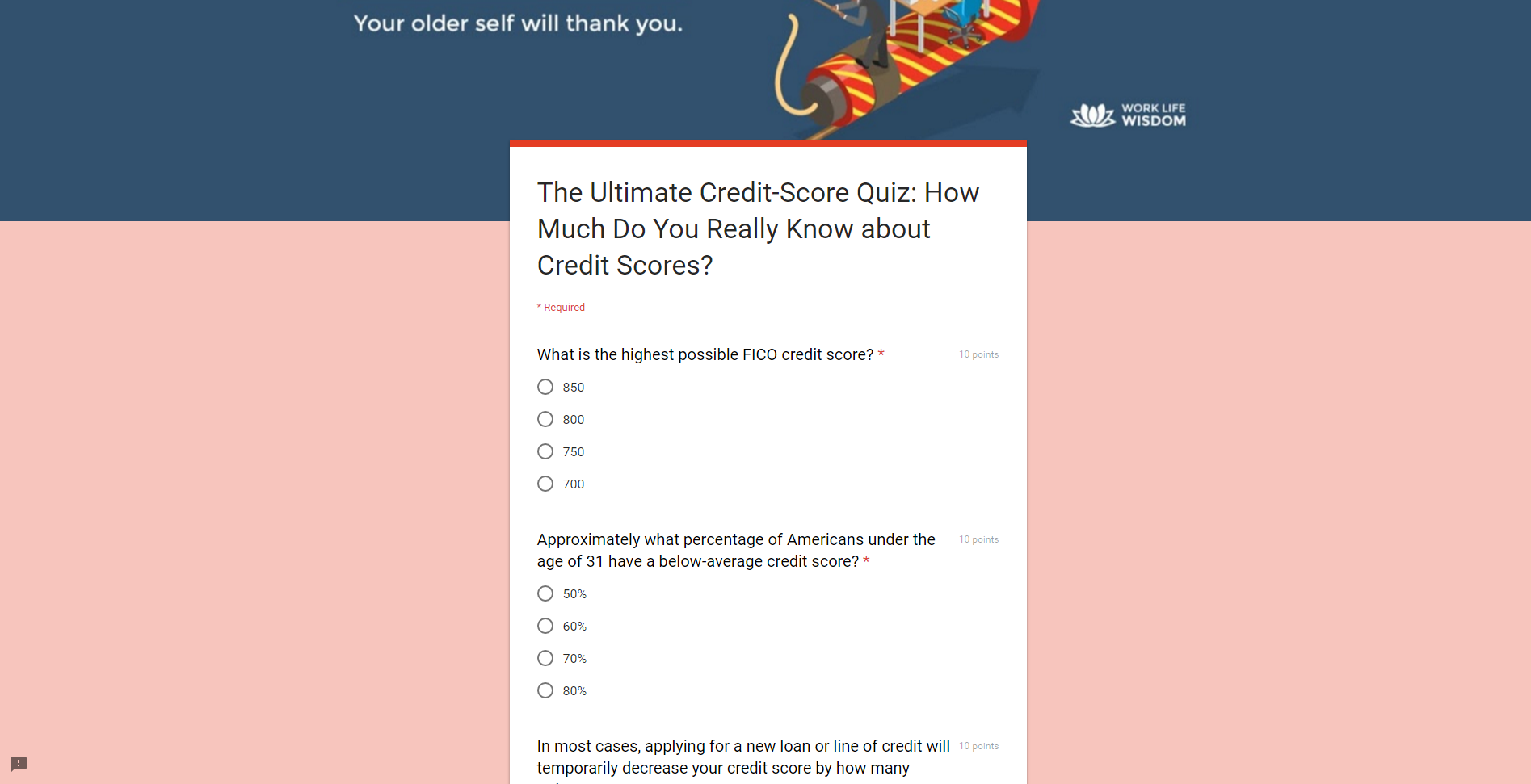 If you're accustomed to having students access your learning materials within a learning management system like Canvas, Blackboard, or D2L/Brightspace, you might wonder why you'd ever want to create quizzes outside your LMS. I had a similar perspective until I began working on projects that included students outside of my institution. For instance, through DePaul's Global Learning Initiative, I frequently work with faculty who are collaborating with foreign instructors and students.
Before the rollout of Google quizzes, the only way we could provide our non-DePaul collaborators with access to quizzes was to add them to our LMS. This process is time-consuming and tends to reinforce the feeling that, as an American institution, we're requiring our partners to learn our systems and do things our way. Because Google quizzes can be accessed by simply clicking a link (no login required), and because many Google products are widely used in many countries, we now have an option for online, auto-graded assessments that feels more open and familiar to students outside of our institution.
A Familiar, Intuitive Setup Process
You can create a Google quiz by visiting forms.google.com and creating a new form. Under the form settings, select the Quiz option and click "make this a quiz." This will enable options for your form that wouldn't normally be available, such as selecting the correct and incorrect answers for each question.
Key Features
They're easy to set up.
If you're accustomed to quiz-building tools that require you to repeatedly click something and wait for the page to reload every time you want to create a new question or save your work, you'll love the experience of creating a quiz with Google forms. Everything is saved automatically and there's no delay. You can create new questions and answer choices as fast as you can type them out.
Sharing is flexible and simple.
You can embed a quiz on a page with other instructional content or share a link to the quiz with anyone you like. In addition, quizzes are easy to take on any device, from desktops and laptops to tablets and phones.
Responses are easy to view and understand.
You can view both a summary of all students' responses to each question or view all responses for a specific student. You can also download all responses as a CSV file for viewing in a spreadsheet tool like Excel. Unfortunately, there doesn't seem to be any way to share a link to the aggregated, anonymous class results, so you'll need to download these and then delete the students' names from the spreadsheet if you want to share the results with others.
Additional Features
It's worth noting that Google Quizzes also includes several features you've probably come to expect from your existing learning management system. These include the ability to:
add images and videos to questions and answer choices.
provide different feedback based on whether or not the student answered correctly or incorrectly.
include links to helpful readings and resources when students answer incorrectly.*
use regular expressions to evaluate short, open-ended responses.
provide partial credit for partially correct answers.
* Note: Unfortunately, you can't add custom feedback to each answer choice. All incorrect answers must receive the same feedback.
Google Quiz Drawbacks and Limitations
 No question pools. It's not possible to create large question pools and then generate questions or entire quizzes from random assortments of questions from a pool.
No gradebook integration. If you're administering a lot of quizzes that count toward students' final grades, you'll want to stick to building them in your LMS to avoid the hassle of transferring grades from Google to your gradebook.
No automatic recording of student names. You can add a field to a Google quiz that requires students' to enter their names before submitting, but your LMS will still do a better job of automatically associating each quiz attempt with the appropriate student.
Conclusion
Google quizzes are not going to replace traditional LMS quizzes any time soon. However, I think their streamlined setup process, mobile-friendly design, and ability to be shared with anyone in the world makes them a great option in certain scenarios where an LMS might fall short.  Now that I've had some success them with my own students, I'm excited to see how they might help the faculty I work with broaden the potential audience for their assessments and streamline our international collaborations.