More than 100 million views in less than 48 hours!   This is the growing count of viewing record of Under the Dome, a documentary on air pollution in China, which aired online on Feb 27th.   It was produced by renowned investigative journalist Chai Jing, who used her own money—more than $156,000—to fund the production.
After watching this one-hour-and-forty-minute-long recording, I felt that calling it a documentary was overrated. This "recording" does not possess any signs of cinematography–no visual effects, no theme music, and no artistic post production. It's merely a TED talk with a lecturer in the front and a PowerPoint presentation displayed in the background—in short, a recording of a lecture.
From the instructional design perspective, both methods–the long lecture and the PowerPoint–are not innovative. Yet, I found myself captivated by this presentation not only because of the sensitivity of the topic and the charisma of the speaker, but also by the "ways" that the "instruction" was designed.  I call it "instruction" because the producer declared three very clear educational goals at the beginning. Chai Jing's goals were to educate her audience on the following: 1. What is smog? 2. What caused it? 3. How do we deal with it? From constructing fundamental knowledge, to calling for specific actions, this recording addressed all learning objective levels in Bloom's Taxonomy: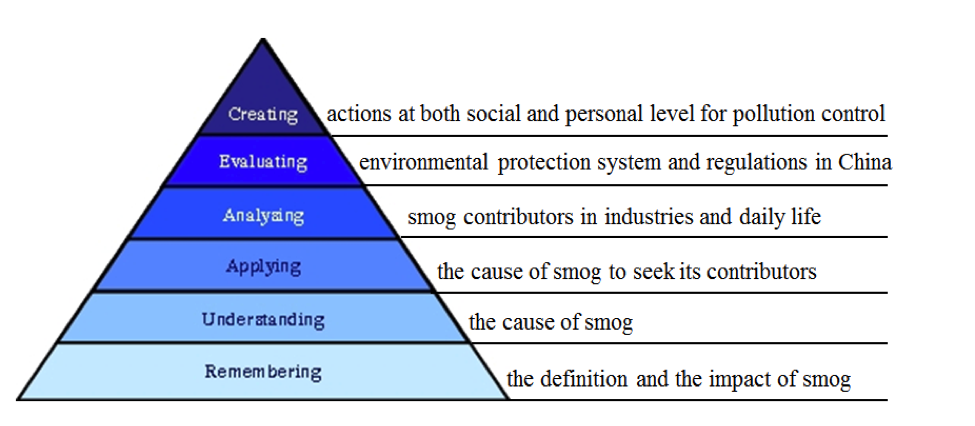 Like the air in China, the talk of pollution is by no means a fresh one. In fact, the media coverage of smog, which includes new reports, research publications, and online forums, has been going on for years. A search of "雾霾" (smog) in Baidu, the Chinese equivalent of Google, brought up 19 million links.
If a subject has been taught for years without satisfactory outcomes, then why, all of a sudden, has this one instructor garnered the interest of millions? What has she done to make this documentary the biggest Massive Open Online Course (MOOC) in history?
There were three strategies used in the design of the course that are worth sharing: 1) adding a personal touch, 2) avoiding bells and whistles, and 3) using data and making it relevant.
Adding a "Personal Touch" to Teaching
Chai Jing started her lecture with a personal anecdote: her daughter was diagnosed with a benign tumor before she was born. Chai was determined to protect her daughter from air pollution first by keeping her inside of the house and then beginning her own campaign against air pollution. She declared that her self-funded investigation is a personal battle between her and the smog!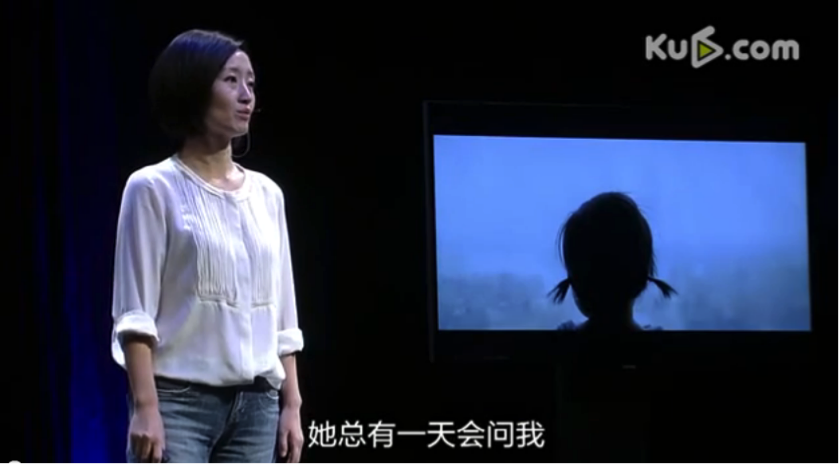 By exposing her own struggle and vulnerability, Chai Jing drew the audience closer to both her and her topic. Dr. Brene Brown once said in her Ted Talk, The Power of Vulnerability, "…in order for connections to happen we have to allow ourselves to be seen."
"To be seen" means to open yourself up to students by sharing your life's story, your thoughts, and sometimes, your frustrations with them. In today's world, where information is just a click away, it is this personal touch that makes the difference between an online course and a digital file cabinet.
As an instructor, I've experienced the power of incorporating personal touch. While teaching this quarter, I had to be out of town for a few days and didn't want to disrupt my students' learning. So, I built an online learning module that included various learning resources, including flash cards and animated dialogues. When I came back, I gave a quiz to see if they learned the material by using the module. I was pleased to see that the students did well on the quiz, proving that despite my physical absence, they did indeed learn.  During class,  I asked them how they liked this method of teaching. I saw heads shaking "no" and one of them said, "It is awful!" I asked why and she said, "There were no stories!"
It reminded me that in the haste of putting all of the learning materials online, I forgot to practice what I have always been preaching—that is to inject a sense of instructor presence, with my responses and with my stories. Without those stories, my course has become a file cabinet of digital resources.
Avoiding Bells and Whistles
The BBC called Under the Dome, "a film that took China by storm." If you haven't watched it, you might have envisioned a Hollywood-style mega production, but this storm-maker is more like a classroom recording. This tells us that as long as the content is meaningful, the means can be as plain as the presenter's white shirt and blue jeans.
Although Under the Dome is very much like a TED talk, it is different from many of the TED talks that usually focus on the presenter and visual aids. The content in this documentary, like an online course, is chunked together in sections with the presenter logically threading the content together and guiding the audience through the information.
Also, like a course, resources used by the documentary are PowerPoint slides, compilations of media reports, and one simple animation. When I saw my nine-year old making a heart-pounding trailer in a matter of minutes, I told myself, "It's time to give up. Your students will no longer be impressed by any of the dazzling things you create. They have seen too much in life already." While it is still important to use visuals to illustrate the points, often times a plain graph serves the purpose–as long as it is relevant.
Using Data and Making it Relevant
In addition to incorporating personal touches and a straightforward presentation style, using relevant data is another factor that leads to the success of this documentary.   Prior to this, there have been millions of reports made by scientists in and outside of China, leaving critics to claim "there is nothing new in Chai Jing's report!"
Yet, I have to say that on the subject of smog, no one had produced anything so comprehensive AND comprehensible. Besides a thorough coverage of all aspects of smog, the scientific data she presented actually make sense. For example, when one of the slides was too difficult to comprehend, she created a simple video-game-like animation to demonstrate the battle between the immune system and the harmful elements in smog. It is both entertaining and informative.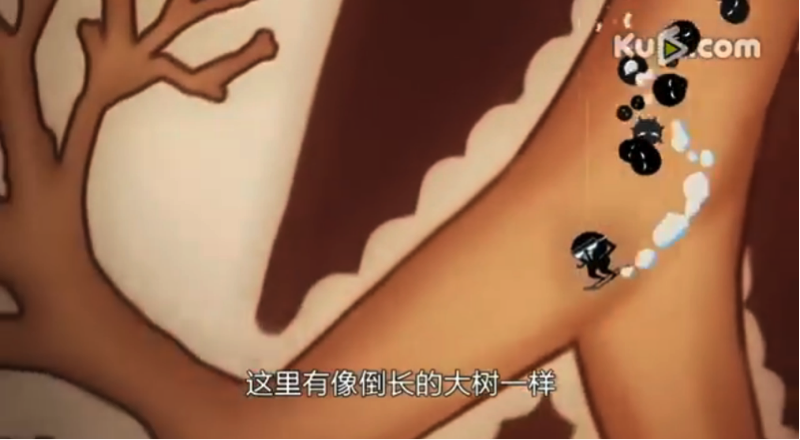 Jose Bowen, the author of Teaching Naked, once pointed out that the new role of a teacher should be one who helps students find the relevance or the entry point of the things they are learning. Whether with a story or an image, instructional design means identifying a dull and complicated concept and finding a means to make it comprehensible.
While witnessing effective instructional design through a documentary on air pollution, I once again felt the serendipitous nature of learning. I also discovered that there are so many shared virtues between a good reporter and a good teacher, like the sense of responsibility, the ability to gather and present information, and the desire to inspire a change!