I've been indulging in a bit of a guilty pleasure lately: a network television series that ran a couple of years ago called Lie To Me. It stars Tim Roth as Dr. Cal Lightman, a deception specialist who is hired by agencies and individuals to determine the "truth" at a crime scene.
Dr. Lightman and his team of experts study the micro-expressions (brief, involuntary facial expressions) on all of the parties involved.
Be it a downturn of the mouth, or a twitch under the eye, "The Lightman Group" banks on the fact that these micro-expressions consistently indicate emotions such as guilt, shame, fear or arousal.  These expressions are especially apparent when video footage of a subject is slowed down and studied, frame-by-frame. The scientific premise of the show is based on the cutting-edge research of psychologist Paul Ekman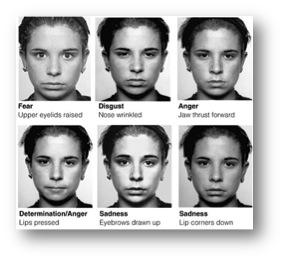 Photo credit: Paul Ekman Group
I bring this up because I distinctly remember one of my instructional design mentors, Dr. Mahnaz Moallem, lecturing on the inaccurate "hunches" that instructors tend to make about their students in the face-to-face setting.
Example: none of their eyes are closed, no one is texting on their phones, a couple of them had valuable things to say, most are nodding…so they must be following what I'm saying. Maybe?
Face-to-face teaching too often involves a quick, intuitive read of students' faces to determine whether they are following or understanding the course content.
But, who has time to slow down and have every student respond to a discussion question?
And, it doesn't help that "any questions?" is usually met with radio silence.
So, given that:
Hunches are inaccurate
Asking everyone to speak takes too long
Micro-expressions only appear for 1/25th of a second
How can we discern what the students are really thinking about the content?
My preferred instructional strategy for addressing this question is polling.
More specificially, I recommend mobile-optimized tools such as Socrative or PollEverywhere. (Clickers are used similarly, though they can be costly and don't have the same level of functionality as mobile applications.)
The ed tech term for polling tools such as PollEverywhere or the iClicker is "Classroom Response Systems." CRSs cut right through hunches, the flat affect, the Facebook feed, even daydreams, and instantly reveal the students' mastery of the course content at hand.  Instructors create poll questions ahead of time, or on the fly.  The questions are displayed in a PowerPoint presentation, through a web browser, or presented verbally.  Students respond via mobile devices, tablets, laptops, or any device that has a web browser.  In the event that not all students have a phone, some polling apps, such as Socrative, allow more than one student to respond using a single mobile device.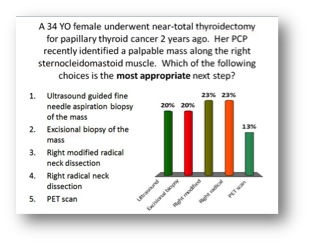 Photo credit: American College of Surgeons Division of Education.
Students can be identified when they respond, or they can weigh in anonymously, depending on the instructional goal. Instructors can offer pop-quizzes (see above), open-ended questions ("What was your favorite passage in the reading last night?"), or creative challenges ("Compose a haiku based on your dietary preferences."] Students can even be asked to come up with the prompts for each class period.  Or, if one wants a fun way to take attendance, how about asking "what's one thing you read today that WASN'T on your phone?"
Most importantly, when a poll is deployed, instructors hear from every student in the room, in real time—and no need for the Lightman Group.
Derek Bruff, director the Vanderbilt University Center for Teaching, has been researching CRSs for many years. His CRS page includes a wealth of pedagogical suggestions, examples, and guidance for poll questions.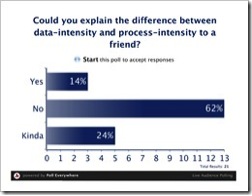 Photo credit: Chronicle of Higher Education
The polling possibilities really are endless. And engaging. And effective. In a recent study at Worcester Polytechnic Institute, 82% of students polled agreed they were more willing to be engaged in classroom discussion with polling. 77% said they would be more likely to answer questions via text, rather than verbally.
We can groan about how students are looking at their phones too much and need to learn how to speak up in class.  Or, we can capitalize on the potential of polling, and groan later, at the pub.
For more information about how to incorporate polling in your course, contact the DePaul Mobile Learning Initiative: MoLI@depaul.edu.
Further reading about the value of polling in the classroom:
Agile Learning (Derek Bruff's Blog)
Sample, Mark. (2012) ProfHacker Blog: Live Polling of Your Students with Poll Everywhere. Chronicle of Higher Education website. http://chronicle.com/blogs/profhacker/live-polling-of-your-students-with-poll-everywhere/44961