On the first day of class, I asked my students, "How many of you have a smart phone?"
Everyone raised their hands.
"Great!" I said. "Take them out—if they aren't already—because you will do a lot of messaging in this class. Go to WeChat.com and download the app to your phone."
After the students created their accounts, I gave them my phone to scan the bar code for the class group I created within the app.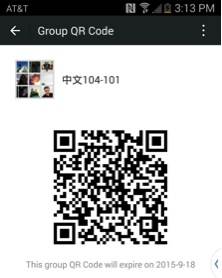 Within 15 minutes, all fifteen of them were in the Chinese 104-101 WeChat group. After the setup, I began explaining what WeChat is, and how I've used it in previous classes.
WeChat is a mobile messaging app developed by a Chinese company called Tencent Inc. According to DMR, as of Aug 22, 2015, there are 800 million active users. It's user-ship has surpassed Twitter and continues to grow rapidly and globally. It is threatening the global social media market and has been referred to as the potential "Facebook killer".
In my Chinese language class, I use WeChat to serve the following purposes: Continue reading →